What is the Individual Gospel?
For God so loved the world that he gave his one and only Son, that whoever believes in him shall not perish but have eternal life.

John 3:16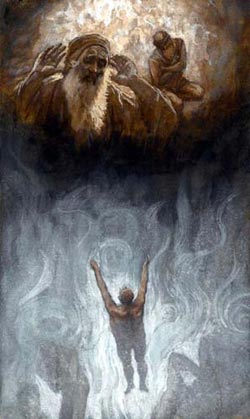 That's a wonderful and important verse. It has become the most famous bible verse in the world. It says that if we believe in Jesus we will have eternal life (i.e. go to heaven after we die). I could leave it there and just say John 3:16 tells us everything we need to know about how to be "saved;" about the individual gospel. Things would be far less contentious if I did that. But, I just can't in good conscience. There really is much more that Jesus says that we should pay attention to. In fact, I think it's dangerous not to.
First, it's important, to understand that the word "believe" meant much more to Jesus and the writers of the gospels than it often means to us. To believe in Jesus is more than simply thinking a certain thought about him. It also requires that we understand him; accept his teachings; and be convicted to obey them. We must repent and turn away from our natural selfishness and be "born again" into a new creation.
To "believe" in Jesus means that we love God and love our neighbors. Jesus did and commands us to as well. In fact, Jesus said we'd receive eternal life if we love God and love our neighbor (Luke 10:28). Through the words of Jesus we can see how the social and physical parts of the gospel intersect with the individual and spiritual parts. They are all essential parts of the gospel.
You can read a short summary of many of Jesus' teachings at What Must I Do To Inherit Eternal Life. Rob Bell got in a lot of hot water over his book Love Wins: A Book About Heaven, Hell, and the Fate of Every Person Who Ever Lived
at least partly because he raised the issue of what Jesus says about the individual gospel. Among the many scriptures Bell cites in the first chapter of his book are:
Not everyone who says to me, 'Lord, Lord,' will enter the kingdom of heaven, but only the one who does the will of my Father who is in heaven.

Matthew 7:21
But Zacchaeus stood up and said to the Lord, Look, Lord! Here and now I give half of my possessions to the poor, and if I have cheated anybody out of anything, I will pay back four times the amount.

Jesus said to him, Today salvation has come to this house, because this man, too, is a son of Abraham.

Luke 19:8-9
Bell also makes the point that mere "belief" can't be enough since even demons believe in Jesus. We read various accounts (see Mark 1, Luke 4 and Matthew 8 for instance) where demons testify that they know Jesus is the Son of God. As the apostle James said:
You believe that there is one God. Good! Even the demons believe that—and shudder.

James 2:19
So, clearly there is more to the individual gospel than mere belief as we traditionally think of it. It also has to include repentance, turning from our natural sinful ways, being born again and changing the way we think, the way we live.
Therefore if anyone is in Christ, he is a new creature; the old things passed away; behold, new things have come.

2 Corinthians 5:17
I am not saying we can be saved by our own individual works. I belief it is only through the grace of God that we can be forgiven of our sins. Indeed, the apostle Paul said:
For it is by grace you have been saved, through faith--and this not from yourselves, it is the gift of God -- not by works, so that no one can boast.

Ephesians 2:8-9
Still,
What does it profit, my brethren, if someone says he has faith but does not have works? Can faith save him? If a brother or sister is naked and destitute of daily food, and one of you says to them, "Depart in peace, be warmed and filled," but you do not give them the things which are needed for the body, what does it profit? Thus also faith by itself, if it does not have works, is dead.

But someone will say, "You have faith, and I have works." Show me your faith without your works, and I will show you my faith by my works. You believe that there is one God. You do well. Even the demons believe—and tremble! But do you want to know, O foolish man, that faith without works is dead? Was not Abraham our father justified by works when he offered Isaac his son on the altar? Do you see that faith was working together with his works, and by works faith was made perfect? And the Scripture was fulfilled which says, "Abraham believed God, and it was accounted to him for righteousness." And he was called the friend of God. You see then that a man is justified by works, and not by faith only.

Likewise, was not Rahab the harlot also justified by works when she received the messengers and sent them out another way?

For as the body without the spirit is dead, so faith without works is dead also.

James 2:14-26
Campus Crusade for Christ does a good job of summarizing the individual gospel (individual salvation) with its Four Spiritual Laws. If you haven't read them before, check it out.
As new creations we will, in fact we must, naturally proclaim in word and deed the full gospel, including the social gospel.