The Gospel and Justice
The modern spiritualizing of the gospel discussed at What is the Gospel? extends to concepts like justice. By limiting the gospel to individual salvation we have neglected the social parts of the gospel that tell us, as Christians, how to live. Justice is a huge part of that.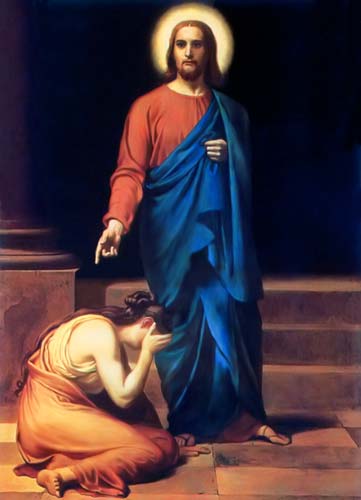 I don't think most Christians realize how important justice is to God or what justice means to God. We have so spiritualized everything in our christian faith that today when christians think about the concept of "justice" (as it relates to their faith) they are most likely to think about how God will do justice at the Judgment seat after the end of the world. Or maybe how justice will have it's day -- in heaven.
I attended conservative churches for decades and don't recall any preaching about how God requires His people to promote and do justice now -- on this earth. Today, many even think "justice" is a dirty word, not to be uttered in church.
Yet, you won't find a topic more discussed by God in His word than justice, especially for the poor. Have we left the Word of God behind in a rush to spiritualize everything so we don't have to deal with the hard, real, stuff of our world?
Jesus began his public ministry by quoting Isaiah (see below). And throughout the gospels we find Jesus often quoting the prophets of the Old Testament. In fact, Jesus specifically says:
You are the light of the world. A town built on a hill cannot be hidden. Neither do people light a lamp and put it under a bowl. Instead they put it on its stand, and it gives light to everyone in the house. In the same way, let your light shine before others, that they may see your good deeds and glorify your Father in heaven. Do not think that I have come to abolish the Law or the Prophets; I have not come to abolish them but to fulfill them.

Matthew 5:14-17
In Matthew 23:23 Jesus says:
Woe to you, teachers of the law and Pharisees, you hypocrites! You give a tenth of your spices--mint, dill and cummin. But you have neglected the more important matters of the law--justice, mercy and faithfulness. You should have practiced the latter, without neglecting the former.
After Jesus ascended to heaven, the apostles carried on with the "justice ball." The apostle James says in chapter 1, verse 17 of his epistle:
Religion that God our Father accepts as pure and faultless is this: to look after orphans and widows in their distress and to keep oneself from being polluted by the world.
If we are to follow Jesus; if we are to be a Christian; if we believe in, proclaim and do the gospel of Jesus, then we must be committed to doing and promoting real, actual, justice in our world -- TODAY. The prophets of Israel were. Jesus was. The apostles were. God was, and is.
If you have any doubts whether Justice, systemic, societal justice, is important to God, please read on. Let's start with Isaiah 1:10-28
Hear the word of the LORD, you rulers of Sodom; listen to the instruction of our God, you people of Gomorrah! "The multitude of your sacrifices — what are they to me?" says the LORD. "I have more than enough of burnt offerings, of rams and the fat of fattened animals; I have no pleasure in the blood of bulls and lambs and goats. When you come to appear before me, who has asked this of you, this trampling of my courts? Stop bringing meaningless offerings! Your incense is detestable to me. New Moons, Sabbaths and convocations — I cannot bear your worthless assemblies. Your New Moon feasts and your appointed festivals I hate with all my being. They have become a burden to me; I am weary of bearing them. When you spread out your hands in prayer, I hide my eyes from you; even when you offer many prayers, I am not listening.

Your hands are full of blood! Wash and make yourselves clean. Take your evil deeds out of my sight; stop doing wrong. Learn to do right; seek justice. Defend the oppressed. Take up the cause of the fatherless; plead the case of the widow. "Come now, let us settle the matter," says the LORD. "Though your sins are like scarlet, they shall be as white as snow; though they are red as crimson, they shall be like wool.

If you are willing and obedient, you will eat the good things of the land; but if you resist and rebel, you will be devoured by the sword." For the mouth of the LORD has spoken. See how the faithful city has become a prostitute! She once was full of justice; righteousness used to dwell in her — but now murderers! Your silver has become dross, your choice wine is diluted with water. Your rulers are rebels, partners with thieves; they all love bribes and chase after gifts. They do not defend the cause of the fatherless; the widow's case does not come before them.

Therefore the Lord, the LORD Almighty, the Mighty One of Israel, declares: "Ah! I will vent my wrath on my foes and avenge myself on my enemies. I will turn my hand against you; I will thoroughly purge away your dross and remove all your impurities. I will restore your leaders as in days of old, your rulers as at the beginning. Afterward you will be called the City of Righteousness, the Faithful City." Zion will be delivered with justice, her penitent ones with righteousness. But rebels and sinners will both be broken, and those who forsake the LORD will perish.
How about Isaiah 58:1-10 (verse 6 having been quoted by Jesus in Luke 4):
"Shout it aloud, do not hold back. Raise your voice like a trumpet. Declare to my people their rebellion and to the descendants of Jacob their sins. For day after day they seek me out; they seem eager to know my ways, as if they were a nation that does what is right and has not forsaken the commands of its God. They ask me for just decisions and seem eager for God to come near them.

'Why have we fasted,' they say, 'and you have not seen it? Why have we humbled ourselves, and you have not noticed?' "Yet on the day of your fasting, you do as you please and exploit all your workers. Your fasting ends in quarreling and strife, and in striking each other with wicked fists. You cannot fast as you do today and expect your voice to be heard on high. Is this the kind of fast I have chosen, only a day for people to humble themselves? Is it only for bowing one's head like a reed and for lying in sackcloth and ashes? Is that what you call a fast, a day acceptable to the LORD?

6 "Is not this the kind of fasting I have chosen: to loose the chains of injustice and untie the cords of the yoke, to set the oppressed free and break every yoke?

Is it not to share your food with the hungry and to provide the poor wanderer with shelter— when you see the naked, to clothe them, and not to turn away from your own flesh and blood? Then your light will break forth like the dawn, and your healing will quickly appear; then your righteousness will go before you, and the glory of the LORD will be your rear guard. Then you will call, and the LORD will answer; you will cry for help, and he will say: Here am I. "If you do away with the yoke of oppression, with the pointing finger and malicious talk, and if you spend yourselves in behalf of the hungry and satisfy the needs of the oppressed, then your light will rise in the darkness, and your night will become like the noonday.
Isaiah 61:1-2, 8 (verses 1-2 also quoted by Jesus in Luke 4):
The Spirit of the Sovereign LORD is on me, because the LORD has anointed me to proclaim good news to the poor. He has sent me to bind up the brokenhearted, to proclaim freedom for the captives and release from darkness for the prisoners, to proclaim the year of the LORD's favor and the day of vengeance of our God, to comfort all who mourn....

"For I, the LORD, love justice; I hate robbery and wrongdoing.
Here's God's prophet Jeremiah weighing in on justice in chapter 9, verses 23-24 of his book:
This is what the LORD says:

"Let not the wise boast of their wisdom or the strong boast of their strength or the rich boast of their riches, but let the one who boasts boast about this: that they have the understanding to know me, that I am the LORD, who exercises kindness, justice and righteousness on earth, for in these I delight," declares the LORD.
Jeremiah 22:13-17 says:
Woe to him who builds his palace by unrighteousness, his upper rooms by injustice, making his countrymen work for nothing, not paying them for their labor. He says, 'I will build myself a great palace with spacious upper rooms.' So he makes large windows in it, panels it with cedar and decorates it in red. Does it make you a king to have more and more cedar? Did not your father have food and drink? He did what was right and just, so all went well with him. He defended the cause of the poor and needy, and so all went well. Is that not what it means to know me?' declares the LORD. But your eyes and your heart are set only on dishonest gain, on shedding innocent blood and on oppression and extortion.
Then there is Amos with one of my favorite verses in the bible:
But let justice roll on like a river, righteousness like a never-failing stream!

Amos 5:24
How about Micah?
And what does the Lord require of you?...To act justly and to love mercy and to walk humbly with your God.

Micah 6:8
Those are just a few scriptures about justice. There are tons more. And, still more about how God feels about the poor. Again, I don't think God talks about anything more than justice and how we as individuals, and as a society, must be committed to justice and to lifting up the poor. That's a big statement, but true. So, we have to deal with it.
Richard Dahlstrom says on page 80 of his book Colors of Hope, The: Becoming People of Mercy, Justice, and Love:
A limited understanding of faith explains why the church actively opposed Martin Luther King Jr. and his nonviolent resistance to racial injustice. You could be at a lynching on Saturday night and singing in the choir on Sunday morning. It explains how the church could be at the forefront -- a century earlier -- of resisting the end of slavery. It explains how the church could sing loud songs about loving God and their neighbors, and refuse to share their wealth in order to care for children orphaned by AIDS. And it explains how the most Christianized nation in Africa could hack up nearly one million of its own citizens with machetes. They were worshiping together one week, and a few weeks later they were murdering each other, with some of the perpetrators being pastors and priests. Take the commitment to "do justice" off your palette and religion quickly mutates into something hideous.
Hopefully, everyone is on board with the idea that advocating for and doing justice in our world, today, is required of a follower of Jesus. Certainly, what that means we must exactly do is a tougher question. There can be honest disagreements about which specific social and political policies promote justice and which don't. But let's be honest here -- simply stating that doing and advocating for justice is central to living a Christian life is a HUGE step. MOST churches in America do not believe this.
If you doubt this, simply go check out the website of your favorite church. Peruse its statements of belief, values, and constitution. Do you see the word "justice" there? See, that's exactly what I'm talking about. That's a serious gospel problem that needs to be fixed.