Do you Agree or Disagree with This?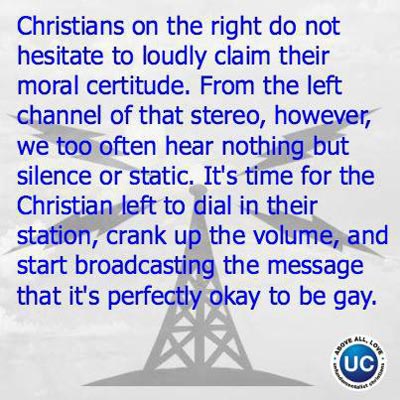 Do you Agree or Disagree with This?
What Other Visitors Have Said:
Not all Christians Agree with this - by Mo
"In 1958, for the first time in history, a person translating that mysterious Greek word into English decided it meant homosexuals, even though there is, in fact, no such word in Greek or Hebrew. But that translator made the decision for all of us that placed the word homosexual in the English-language Bible for the very first time."
I respect your point of view Emily. It used to be my point of view as well. But, not all Christians agree with you. Check out the video on this page and let me know your thoughts.
http://www.gospelpolitics.com/obama-gay-marriage-and-the-gospel.html
If you are Gay, you Ain't Christian - by Emily
It is ok to be gay, for God gave free will to all and many choose that wayward life... HOWEVER, it is NOT ok to be gay and Christian, because If one believes and follows Christ, then they will do the Fathers will as Christ did, and we all know that in Father's eyes it is an abomination to live that way.
So sure, be gay all u wanna... Just don't "broadcast" that ur christian and gay cuz that's a lie, if ur gay, u aint christian.
You Ain't Christian - by Sierra
Emily, if you're haven't sold everything you own and given the money to the poor, you ain't Christian.
If you've prayed in public so people could notice you, you ain't Christian.
If you've failed to love and do good things for your enemies, you ain't Christian.
I could go on.
See the Truth - by Emily
Sierra, I am not sure you understand the parables of the messiah. Keep in the word though and maybe someday you'll get eyes to see the truth.
Oh my god - by Sierra
http://www.soulforce.org/resources/what-the-bible-says-and-doesnt-say-about-homosexuality/
The Truth is Not Relative - by Jordan
I would argue that saying that the Christian right is shouting about their moral certitude is false in my case I wouldn't say my moral certitude because I fail all the time but that there is right and there is wrong.
This issue is close to my heart seeing as my dear sister would like to be able to marry her girlfriend. And there is a lot to say. A person can live a gay lifestyle but that does not define who they are rather it is what the do. All people are created and loved by god first of all.
If I believe marriage is between two people, they can't be related, they have to be consenting adults, and they have to be male and female. If someone wants to redefine marriage by changing one of those then what's stopping them from any of them? The truth is not relative.